Profile

#1776926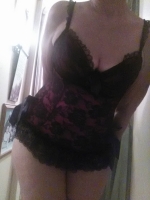 9
I'm hot, dominant, wet, sweet, ready to let you in for sensuous, erotic, mutual satisfaction! You will be mine on your knees!
Mature, naughty by nature, forever young! Can be dominant or submissive. Like to dress up with you, role play, fantasy fulfillment. Be your Mistress Queen Bee Cougar!! Rule you! Desire young successful man to cover my fingers, neck and arms in gold, jewels, and diamonds. Lingerie fetish. Giving and receiving oral, and anal pleasure! Leather, lace we dress up, ride in a fast car, or on your Harley, or other bike, dressed up dancing together at concerts, clubs. Shopping together for sexy pieces to dress each other up if you like! Paint our nails, apply make up for each other if you like! Go out to eat wearing what we want! Enjoying toy play, romance hot sex, at the end of a lovely day together!
My Scorecard
Average Call Rating:
5.00
out of 5
Answered Calls:
95%
Answered Messages:
85%
Favorited By:
38
Members
Personality Score:
10.00
out of 10
Most Common Call Reasons:
No Data to Show at this time
A call with me is frequently described as:
No Data to Show at this time
Callers often describe me as:
No Data to Show at this time
My most mentioned special talent is:
No Data to Show at this time
My Recent Reviews
AughyX

WOw. How I do love soapy water and mommy. What a great role-play.

Let's have a play date soon!

Derain

Intense taboo

I enjoy your creativity and imagination! Let's get together soon! ;-}

estival

Always able to play along and private the special attention that I need. Thanks,

Thank you for the compliment, and review! Your a lot of fun, it was a most intimately pleasurable and memorable morning! ;-}xo
My Recent Posts
Hi playmates, I'm only going to be available Tuesday, Wednesday and Thursday if I start working next month. Hope to play soon!
My Availability Schedule
I don't have a set schedule.
My Store
I am not currently selling any digital products.