Profile

#786793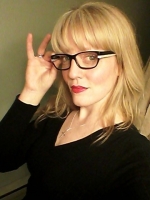 2
MILF Never Truly Satisfied
One guy isn't enough. I need stimulation in different ways everyday. It's hard being me and I try to have as many outlets as I possibly can to make it through the day. I keep my toy in bed with me morning and night; I keep it in the pillow sleeve whenever I need it. I have to make sure I have enough batteries to keep it going, not to mention a back up when it breaks down. I go through toys like tissues. But, of course, I need the flesh as well. At times, I need a good pounding and, at times, I need passion. I can't think straight and I lack judgment when my mind is clouded like this. When a man smiles at me, immediately, I want to fall on my knees to please him. Sometimes, I wear my sunglasses to hide my eyes when I'm hot. My eyes give my mood away and I believe when a guy sees them he will approach. You know.. like a male cat can smell a female cat in heat? It's like that.
My emotions are everywhere. I feel guilty when I'm bad but it goes away immediately when I'm hot and horny all over again.
I need you to call me, help me. I will help you in return. My mood changes a lot, and I believe it's because I'm never TRULY satisfied. Please help me.

My Scorecard
Average Call Rating:
5.00
out of 5
Answered Calls:
68%
Answered Messages:
83%
Favorited By:
22
Members
Personality Score:
10.00
out of 10
Most Common Call Reasons:
A call with me is frequently described as:
No Data to Show at this time
Callers often describe me as:
No Data to Show at this time
My most mentioned special talent is:
No Data to Show at this time
My Recent Reviews
Derain

Samantha enjoyed being punished by Daddy

bigdaddymax

This girl rocked my world as I exploded big time.
My Recent Posts
I don't have any posts yet.
My Availability Schedule
I don't have a set schedule.
My Store